KAS V-check Mark
KAS V-check Mark is the integrated certification mark accredited by KAS (Korea Accreditation System) which certifies the safety, performance and reliability of products to protect consumers' rights and safety while improving their quality and performance.
* KAS (Korea Accreditation System) provides internationally accepted product certification and follow-up service in accordance ISO/IEC 17011 under Article 21 of the "Framework Act on National Standards.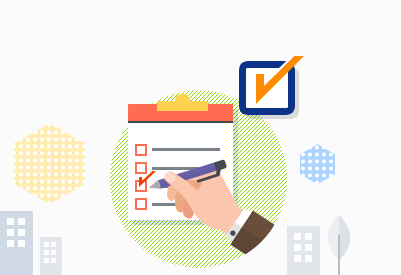 Significance of V-check Mark
The mark is accredited in accordance with international standards (ISO/IEC Guide 65) for the assurance of the reliability of products, processes and services.
Related Regulations & Documents
V-check Mark drawings
Information about the operational rights of certification agencies
Information about the regulations and process of certification's approval, maintenance, upgrade, suspension and cancelation
Information about the evaluation and certification process of each product certification system
Information about certification-related fees
Rights and obligations of applicants and suppliers of certified products
Process of raising complaints and objections, and resolving disputes
Information about the certified products and their suppliers
Areas of Certification
Manufacturing of fabric products
Manufacturing of clothes, accessories and fur products
Manufacturing of leather, bag and shoes
Manufacturing of wood products: excluding furniture
Manufacturing of rubber and plastic products
Manufacturing of medical, precision and optical systems and watches/clocks
Manufacturing of furniture
Manufacturing of other products (fitness and sports gears)
Product Certification System Type
Scheme Type 3 (formal testing, post-production sample testing, initial design comparison testing/inspection)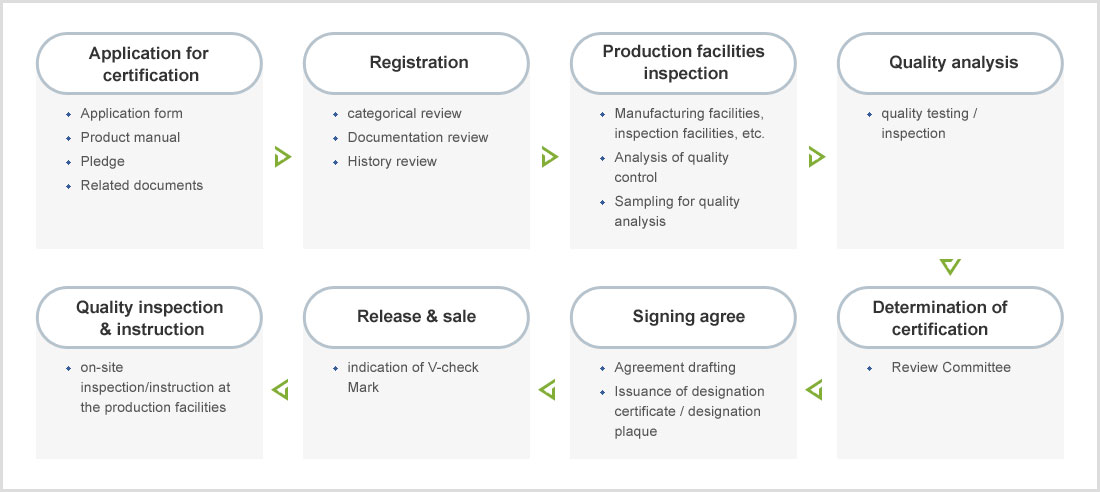 Application for certification

Application form,Product manual,Pledge,Related documents

Registration

categorical review,Documentation review,History review

Production facilities inspection

Manufacturing facilities, inspection facilities, etc.,Analysis of quality control,Sampling for quality analysis

Quality analysis

quality testing / inspection

Determination of certification

Review Committee

Signing agree

Agreement drafting,Issuance of designation certificate / designation plaque

Release & sale

indication of V-check Mark

Quality inspection & instruction

on-site inspection/instruction at the production facilities