Conformity Assessment
It verifies whether products, processes, systems, persons or organizations meet the requirements and includes test, inspection and certification in addition to the accreditation of CABs (Conformity Assessment Bodies).
※CABs (Conformity Assessment Bodies) refer to organizations that certify testing, inspection, calibration, proficiency, standard materials, medical test (e.g. product, system).
ISO/IEC 17020 : Inspection agencies
ISO/IEC 17025 : Test and calibration laboratories
ISO/IEC 17043 : Proficiency testing agencies
ISO guide 34 : Qualification of standard material production
ISO/IEC 17065 : Certification authorities for products, processes and services
ISO/IEC 15189 : Medical testing laboratories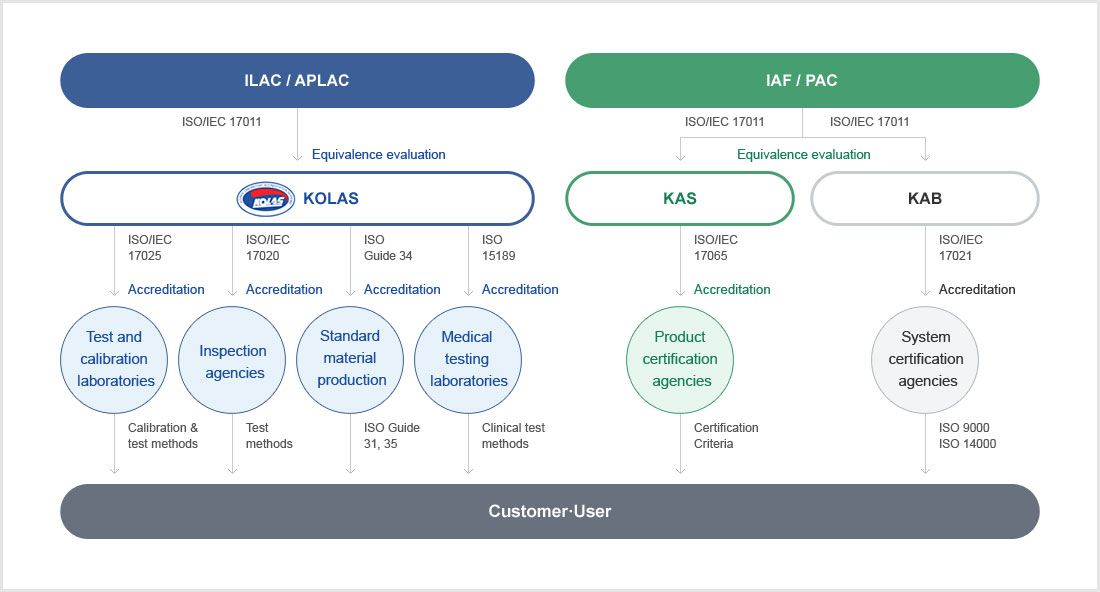 KOLAS(Korea Laboratory Accreditation Scheme)
The accreditation scheme was legally authorized to accredit the conformity-assessed organizations according to Article 23 of the Framework Act on National Standards and is conducted by the Korea Agency for Technology and Standards.
※ The certificates issued by the accredited organizations are internationally accepted according to the Common Criteria Recognition Standards.